I call this volume SOULSCAPES–a journey toward connection and meaning through imagery and words. As a poet, wanderer, and wonderer, I try through my work to make sense of the universe.
Thanks to adventuresome parents and a rich and tapestried childhood in France, India, and the United States, I was introduced to many ways of looking at the world.
Spiritually, I would call myself a seeker who admits, discovers, and ponders all gods. I learned growing up to be open to all aspects of faith: Hindu, Muslim, Jain, Buddhist, Christian, Judaic, Native American, and worldwide tribal beliefs.
I've steeped myself in research about many other areas of spiritual belief and practice: origin stories, spirit animals, tarot, witchcraft, the occult, past lives, lucid dreaming. As I am both a rational skeptic and a believer in things unexplainable by logic, poetry seems the perfect way to explore and love both the scientific fact-based world and the magical, mysterious unknown.
I see all beings as one with nature in the universe. Why would we be apart?
And what else is out there, in the far reaches of space? With recent developments never thought imaginable, like the James Webb Telescope, we are compelled to open our eyes to new visions of the universe–the galaxies "beyond." Perhaps my real religion is Education and Exploration.
I invite you to take this journey with me through SOULSCAPES, an exploration of the way we reach for godliness or soul in our lives and relations. May you consider and delight as I have in other ways of knowing.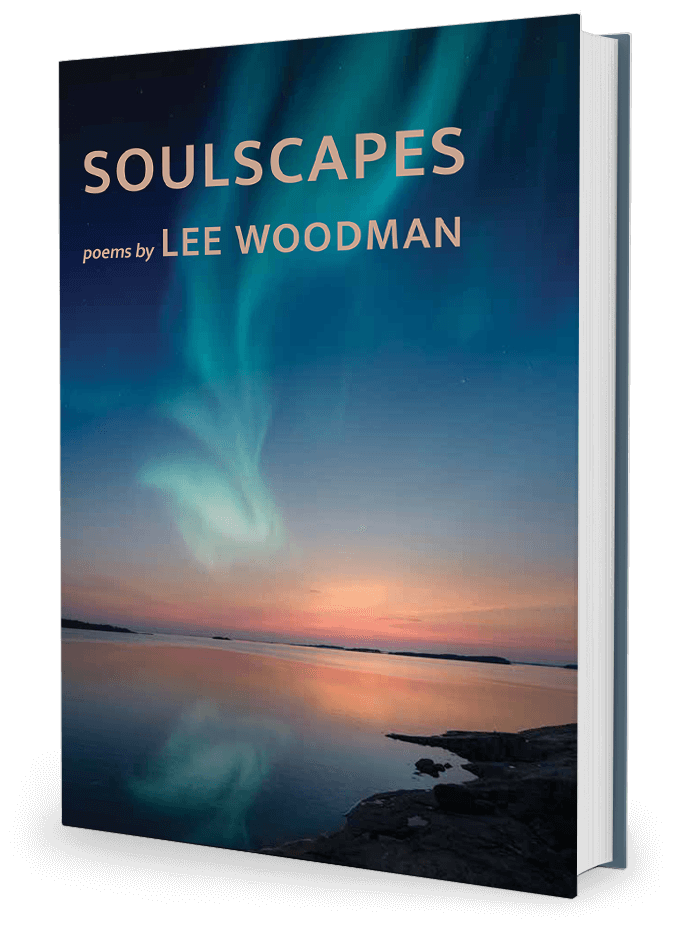 Lee Woodman's fifth poetry collection Soulscapes is a transformative journey for both speaker and reader. Anchored in beautiful formal movements—sonnets, pantoums, villanelles—and moving ekphrastic poems grounded in visual and musical art, Soulscapes offers readers a chance to ask deep questions and perhaps get closer to finding some answers. Here, Woodman crafts poems as spells and incantations. Her words highlight the sensual movement of the moon, tides, and even the self among varied worldly landscapes. These are poems filled with other voices, ghosts, past lives, and poetic influences. In one poem, Woodman writes "We break through the wallpaper, like a palimpsest, / to breathe and tell our histories," and that is what the poems in this collection do. They breathe and break through, sing and paint images, and move through time in overlapping histories of humanity, nature, and spirituality.

—Emily Holland, editor of Poet Lore
In Lee Woodman's poetry, humans, animals, goddesses, witches, ghosts, the moon, trees, and tarot cards all tell a story. "Mysteries prevail, miracles happen" in these poems, which explore death and reincarnation, extrasensory consciousness, personal relationships, and fascinating natural phenomena. Woodman clearly has conducted deep research and offers factual tidbits that buttress the reader's sense of wonder. The metaphors are most striking: when the peacock sheds its splendid feathers and regrows them each year, a message is revealed: "Embrace your beauty, / show off your gifts, / heal once more." The poet probes the different kinds of endings that unfold around us, whether it's the withering of cherry blossoms or the death of an orca calf, with its mother in a heartrending act of grief. Indeed, Woodman declares, "I sense other ways of knowing," and we are the fortunate beneficiaries of her penetrating, beautiful insights.

—Zeina Azzam, Poet Laureate of the City of Alexandria, Virginia
Sample Poems in SOULSCAPES
Sign Up for News & Events
Want to know when Lee has new poetry or a book coming out? Join the mailing list!
I am available for speaking engagements, poetry readings, and media interviews. And, I love doing them!
Please contact her to learn more.