In Lee Woodman's Mindscapes, the poems often start in familiar landscapes— the ocean, the moon, an airplane, the subway—but take off into mindscapes of the imagination. A "blue torso lady" emerges from the ocean; a traveler leaps from the oval window of an airplane to walk on clouds; a barking dog repeats his warning and averts a car crash for an unsuspecting driver.
Woodman makes skillful choices in poetic forms, using pantoum, villanelle, narrative and free verse to enhance content, both harsh and whimsical. We feel the grief of a mother bird whose chick has fallen from the nest and sense the longing of a Japanese man sitting alone by a koi pond. The poet does not shrink from the terrifying when she depicts an immigrant caught in a terrible accident, leaving her demented and depraved.
Other characters we meet in Mindscapes include Athena, the Greek goddess, ghosts, and fairy tale heroes like Pinocchio and Thumbelina. These engaging personae help clarify difficult life decisions and share street smarts about the contemporary world. Concurrent themes of rebellion and tenderness thread the work. Lee's subjects are universal—fear, love, nature, dreams, and longing. Scary dogs, white lies, wild colors, and wriggling squid can remind us that fantasy and beauty—no matter how strange or different—can be found in unexplored alleys and unexpected corners.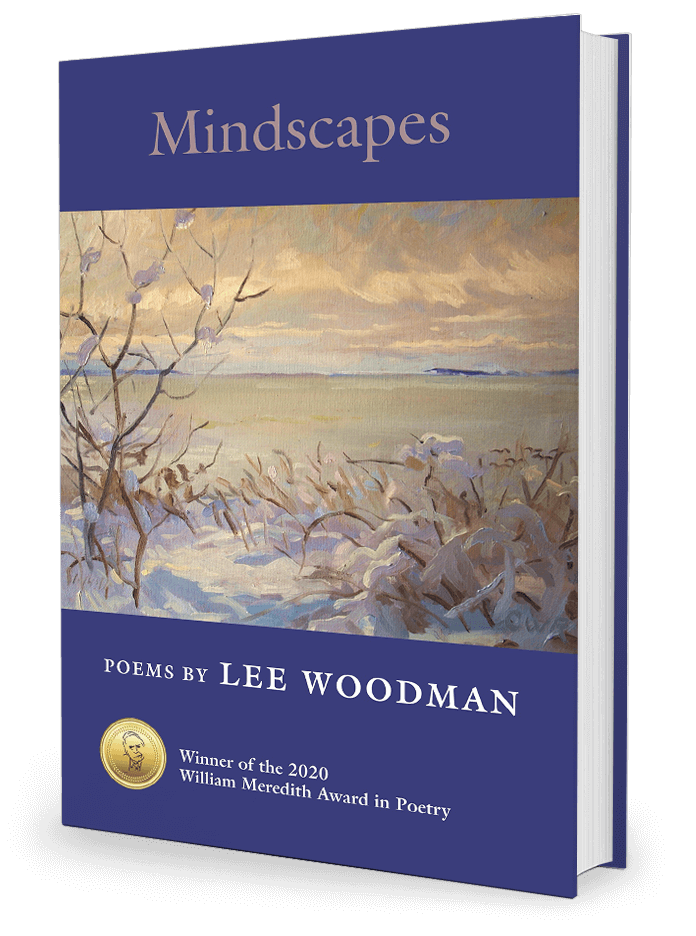 "In Mindscapes, Lee Woodman gives us a higher world of myth, magic, fairytale, and daily life. The exterior world and interior life come together—mind and heart—perfectly matched with elegant speech, deep knowing, and an imagination dusted by stars. By any description, Woodman's imagery will stay with you long after the book is put away. And then you'll want to read again. This award-winning poetry announces a bright new literary light among us."
Grace Cavalieri
Maryland Poet Laureate
---
"Emotionally intelligent and carefully crafted, these poems reveal both inner and outer landscapes in a new, beautiful light."
Donna Stein
Founder and Publisher of Tiferet Journal
---
"Here is an irresistible invitation to beauty, thought, whimsy, and calm. I admire and appreciate the way these poems both lift and ground. Brava!"
Elizabeth Berg 
New York Times bestselling author of The Story of Arthur Truluv, Night of Miracles, and The Confession
---
"Reading Lee Woodman's Mindscapes is like pulling free the ribbon of a very special gift. These poems are lyrical, sparkling gems.  They surprise, refresh and deeply move me with their beauty, light and rich diversity."
Mary E. Mitchell
Author of Starting Out Sideways and Love In Complete Sentences
Lee Woodman is the winner of the 2020 William Meredith Prize for Poetry for her new collection, Mindscapes.
Her poems and essays have been published in Zocalo Public Square "What it Means to be American", Tiferet Journal, Grey Sparrow Journal, The Ekphrastic Review, vox poetica, The New Guard Review, The Concord Monitor. and Naugatuck River Review. A long-time writer in other genres, her radio and film awards include five CINEs, two NY International Film Blue Ribbons, and three Gracies from American Women in Radio and Television. She is a Pushcart nominee and the recipient of an Individual Poetry Fellowship for 2019 and 2020 from the DC Commission on the Arts and Humanities. Highlights of her career include 20 years of leadership roles at the Smithsonian, Vice-President of Media and Editorial at K-12, Inc., and Executive Producer at Lee Woodman Media, Inc. Lee is American, born in Boston, but grew up in France and India, where she developed a lifelong passion for the arts.
Sign Up for News & Events
Want to know when Lee has new poetry or a book coming out? Join the mailing list!
I am available for speaking engagements, poetry readings, and media interviews. And, I love doing them!
Please contact her to learn more.